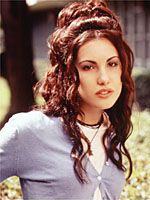 Samantha "Sam" McPherson
is the fictional character in the TV series, Popular. She was portrayed by Carly Pope.
Smart and determined, Sam McPherson is strong-willed, articulate and very stubborn. Sam's father died when she was fourteen. An only child, she lives alone with her mother until the merging of the McPherson and McQueen families. After her mother gives birth to Brooke's father's baby, Sam becomes a half-sister to baby girl MacKenzie. Sam is one of the "unpopular" girls at Kennedy High, along with her best friends Harrison, Carmen, and Lily, a situation which changes when she and Brooke McQueen begin living together. Sam is the editor of the school paper (although as the series progressed, the paper ceased being mentioned) and often wrote stories that exposed hypocrisy and unfairness at Kennedy High. She dates football player George Austin, but eventually discovers feelings for longtime best friend Harrison John after he confesses his love for her. The series creator, Ryan Murphy, stated that had the third season been filmed, Sam would have struggled with her sexuality and realized she was gay. Sam is funny, passionate and has an oft-voiced social conscience, but is quick to anger and slow to let go of hostility. She is also painfully insecure and masks this with a prickly attitude. Her complex and initially hostile/eventually close relationship with Brooke McQueen is one of the cornerstones of the series.
Section heading
Edit
Write the second section of your article here. Don't forget to add a category, to help people find the article.